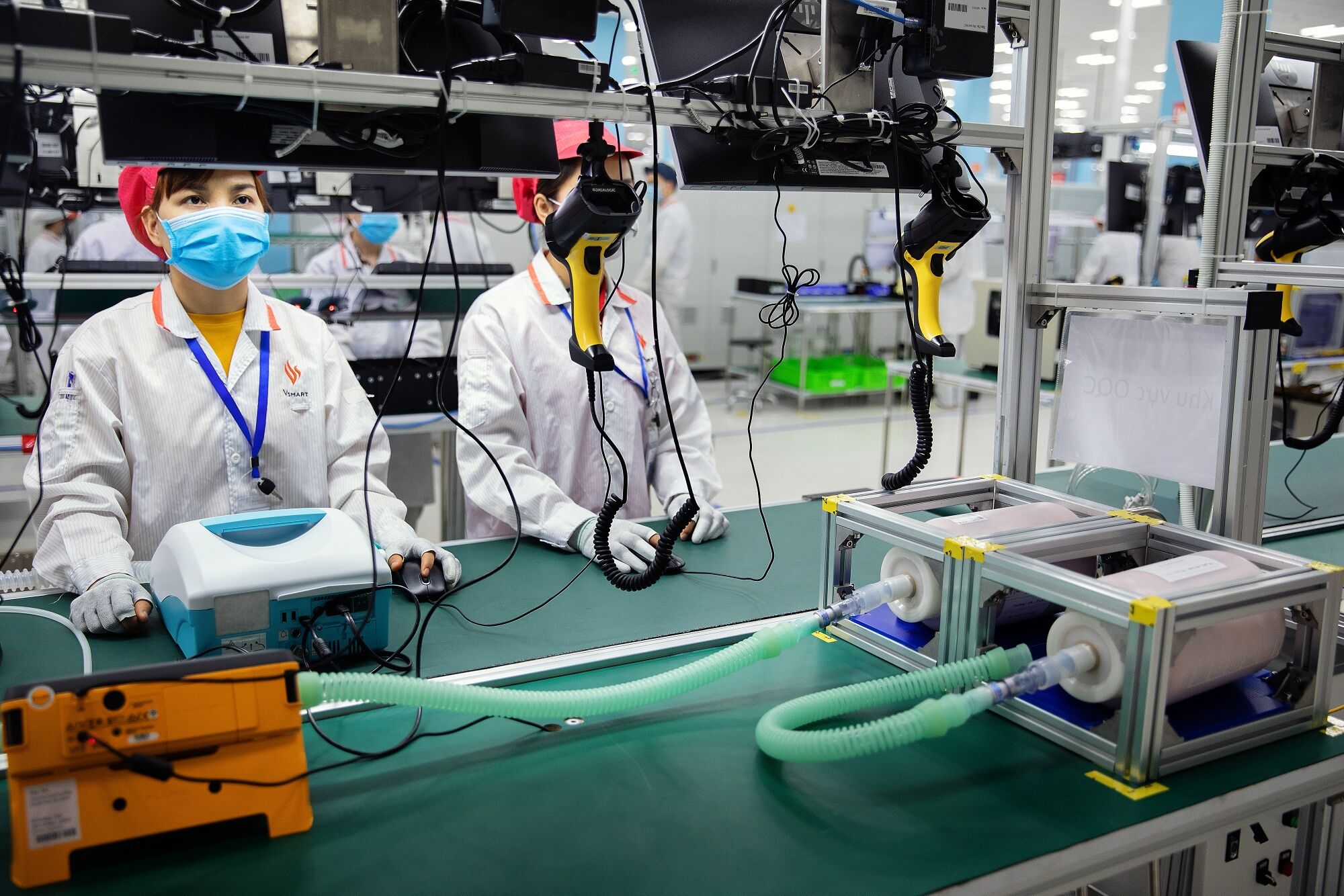 By
K Oanh Ha,
Nguyen Kieu Giang, and
John Boudreau
The
coronavirus pandemic
largely leapfrogged Vietnam—the country has reported just 332 cases and no deaths—but from his sprawling headquarters in Hanoi, billionaire
Pham Nhat Vuong
could see a need beyond the border. In April, the country's richest man surveyed his cradle-to-grave conglomerate and made a decision. He was getting into ventilators.
In the worst cases of Covid-19, the virus attacks the lungs, making it harder to get oxygen to the bloodstream. A ventilator can be the difference between life and death, and there aren't enough of them. By one estimate, the world's hospitals could use another 800,000.
The shortage is most acute in the developing world—South Sudan, for example, has just four ventilators for a population of 12 million—but the world's richest country is short, too. After reports that some hard-hit New York City hospitals had jury-rigged ventilators to serve two patients at the same time, President Donald Trump compelled automakers and other U.S. companies to start making the devices. Ford Motor Co. and General Electric Co.
teamed up
to deliver 50,000 ventilators by July 13 in a $336 million
government
contract.
Vuong believes his company, Vingroup JSC, can do it faster and for less money. Using an open-source design from device maker Medtronic Plc, Vingroup submitted a working ventilator for regulator approval in mid-April. While the company waits for Vietnam's regulators to give the go-ahead, ventilators are rolling off the assembly line.
Vingroup's ventilators cost around $7,000 in Vietnam, 30% less than Medtronic's own model. The company also says it could produce as many as 55,000 a month as soon as the government approves them and plans to export them wherever there's demand. Vingroup says it'll donate several thousand to Ukraine and Russia, where Vuong has long-standing business ties.
"For the time being, we will focus on producing lots of ventilators—and doing it really well," said the 51-year-old Vuong, who shared his plans over the course of a few months in a rare interview at Vingroup's Hanoi headquarters and in a series of emails. "We want to join hands with the Vietnamese government to solve a part of the pandemic problem."
While Vingroup runs a handful of hospitals and clinics, being a medical device manufacturer hadn't been on the agenda. But Vuong, who first got rich selling packaged noodles in Ukraine, is known for an ambition that dovetails Vietnam's own. So when the country pushed domestic manufacturers to make more sophisticated products, Vingroup started making cars and smartphones.
Technical personnel check the operation of ventilators at a VinSmart factory outside of Hanoi.
Photographer: Maika Elan/Bloomberg
Now, as the government gives away cases of made-in-Vietnam face masks to virus-hit countries overseas, Vuong is making ventilators part of an even more ambitious global campaign: selling Vietnamese cars to the world. In December, he announced that VinFast, the conglomerate's automotive group, would
develop an electric vehicle
and export it to the U.S. by 2021. Vuong is pledging $2 billion of his own fortune to make the improbable feat happen.
Whether Americans would consider a Vietnamese car remains an open question. Ventilators, on the other hand, are a product the virus-stricken world can't turn down. "The lesson we learn from a crisis is that there will always be lots of opportunities," said Vuong. "We have to make the right choices and act fast."
Over the past two decades, Vietnam has become one of the world's fastest-growing economies. Average annual incomes have grown more than sixfold, and even pre-pandemic, Vuong fixated on building a company fast enough to keep up with the country's growing middle class. Today the Vingroup umbrella covers dozens of businesses that touch Vietnamese from childhood through senescence.
A baby can be born in a Vinmec hospital, grow up in a Vinhome, attend a Vinschool and go on to VinUniversity. A family might drive a VinFast car through a community designed by Vingroup's master planners en route to a vacation at a Vinpearl resort. In their everyday lives, they can talk on VinSmart phones and shop for international brands at Vincom malls